Unique, fun, musical parties for kids in New Jersey!
Parties By Dylan & Company
Our Biggest Fans are Under Five!
Watch our

video

and see why our

kids party ideas

work so well!
Why choose Parties by Dylan & Company for your child's party in NJ?
Your child will have a great time at their own party, even if they are 1 year old!
We do unique parties because we do it just for YOU!
You can relax and enjoy your child's special day!
Would you love it if all your friends at your child's party told you they just had an amazing time?  Can you imagine feeling relaxed and confident as you watch your child giggle happily while the other young guests at the party are laughing and dancing to all the music?  Even the adults enjoy our parties because we combine kid's classics with popular music heard on the radio.
The secret to our success?  Short activities for short attention spans!  We are going to keep your young guests rocking, moving, dancing, laughing and having FUN for a full hour!  We specialize in kids' birthday parties and baby's first birthday parties in NJ and NYC.  We offer you completely interactive and age-appropriate activities for both boys and girls! Our parties are GREAT for AGES 1 – 8!!  But, truth be told, OUR BIGGEST FANS ARE UNDER FIVE!!
An accomplished party entertainer and professional singer, as well as a NJ-Certified teacher with a Masters in Early Childhood Education, Miss Dylan has been providing fun, creative, and dynamic musical party entertainment for kid's parties and special events in Monmouth County and all over New Jersey since 1992!! Parties by Dylan & Company has a team of talented teacher/musicians who truly enjoy making your child's special day extra special!  WE COME TO YOU!  Party Places in NJ….
The Best Kids Birthday Parties In NJ!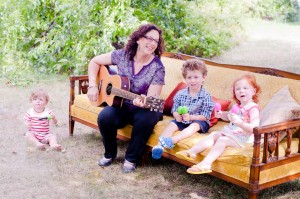 Celebrations and parties of all types are our specialty! Kids Birthday Parties, Baby's First Birthday, Holiday Entertainment, Christenings, Baby Namings, Play Groups, Preschool Events, and more. We can even entertain the young children at your Wedding while your guests enjoy the party!  Our parties can take place in your home, at a restaurant, or rented hall. Our party format is based on familiar and popular music played with a variety of engaging activities.  And if the children are happy, we know you're going to be happy.  But don't just take our word for it…
Do you play guitar and sing?  Do you love working with or have experience teaching young children?  BECOME a Parties by Dylan & Company TEAM MEMBER!  Contact Us Today!
Kids Party Ideas that Engage AND Entertain!
"The children were beyond entertained…"

Some people are just born to do a certain job. For Miss Dylan that is making children smile. And in turn, making their parents smile as well. Nothing makes my heart melt more than the smile of my daughter on the picture below! The children were beyond entertained, they were enthralled in music and fun with their faces painted! I can't thank you enough for making Addison's party so much fun and for making us memories that will last forever!  Samantha L., Lakewood, NJ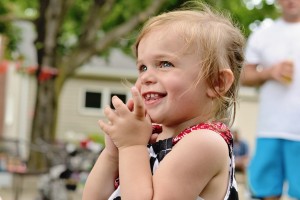 "…you were amazing, but now I see that you train your employees to be the same way."

Ohhh Miss Dylan…Julianna's party was FANTASTIC!!!! Miss Laurie was incredible. Not only did she have the kids in awe but the adults as well. I got so many compliments…with people saying it was the best first birthday they have been to! Even my cousin called me yesterday (who is 32 with no kids) and she was going on and on about how Miss Laurie was so wonderful. She really engaged the children but kept the adults amused and entertained as well. I saw you do a party and you were amazing, but now I see that you also train your employees to be the same way. You have a wonderful business going and the hour of entertainment was worth every penny! Thanks to you and Miss Laurie for helping my daughter have an incredible first birthday! You can certainly add me to your email list and please feel free to use me a reference for future clients. I was so happy with your professionalism and the level/quality of entertainment that you provided! I will certainly keep you in mind for future events and will absolutely recommend you to others! Thanks again, Karen S., Morganville, NJ
Mailing Address: Parties by Dylan & Company
(732) 536-0404
177 Pease Rd.
Manalapan, NJ 07726

View Larger Map