As Seen On: Mom Accomplished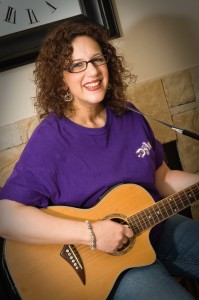 Dylan's Story
I had always wanted to be on stage singing and acting since I was a little girl. Nothing could have swayed me from this dream. But after majoring in Theatre in undergrad and spending about 5 years in the NYC doing LOTS of auditions, some acting work, and waiting tables, I audtioned for a children's play program that changed the course of my life! Once I decided that the "Big Break" wasn't coming (well, fast enough!) I opted for marriage and was hoping one day to have children. Fast forward a few years and I was lucky enough to have my first child at the same time that I got my teaching degree. Wanting very much to stay at home with my son, I didn't want to go for that full time teaching job. Time to get creative! What was I good at? Hmmm. Singing, Performing, and Teaching! I put that all together and started calling preschools to see if they needed a music teacher. Doing children's parties just came right out of that! So now another fast forward, and I have been running my own children's party business and teaching my own music program at a variety of preschools for almost 20 years. I love my job, and thanks to my business coach and to Savor, I am expanding it. I now have 2 employees doing parties in my company! This is so exciting and fun. I have 2 children now 11 years old and 14 years old. I am proud to have created not just a job for myself, but a home based business that allows me so spend my energy singing and performing for my favorite audience, children under 6 AND I still have plenty of time to enjoy being a mom!!
As seen on http://www.momaccomplished.com/ a great web site for "mompreneurs" and their stories.
Do you hold a job outside the home?  Would you like to share your story with Miss Dylan?  How do you find ways to balance motherhood and work?  If you don't work outside the home, what do you find are the pros and cons of being home with your children?
4 Responses to As Seen On: Mom Accomplished