Best and Worst Parties from Parents Like You
My name is Dylan Glanzer. I am  a creative musical party entertainer whose biggest fans are under 5! As a professional actress and singer with a Masters in Early Childhood Education and 20 years in the party business, I've helped thousands of moms plan a flawless party so they can relax and enjoy their child's special day.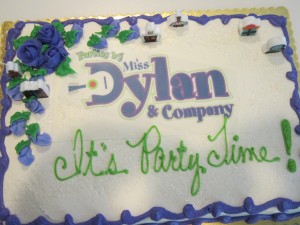 Here is a collection of kids party stories from moms who wanted to share their experiences with my readers.  I hope you can relate to and enjoy them.  Did you have children who got scared of the character  you hired?  Was the music party yours and your child's favorite?  If you have a best or worst party story you'd like to share, please add your story in the comment box!
Home-Made Disaster!
Worst: I had a "guitar party" for my kids 3 year old birthday at my house. Little did I realize that moms were bringing the younger siblings because it was just a "house party." So, instead of 12 three year olds, I had 12 three year olds, and six kids under six years old. The preschoolers sang along with me, the toddlers tore apart my living room. The party went on and on and on! The parents never left. They complimented me and said, "Great food! The new Laurie Berkner!" I did a superhero theme, too and made capes for the kids with their initial on the back. At the end of the party, one child asked, "Where's our favor?" He didn't think the $10.00 cape I made was sufficient. My advice? Never have a party in your own house! It is just too wild!
Patricia R., Mom of 7 year old twins and teacher
Patricia: My Advice? Never have a party in your own house without hiring someone to help you! Instead of spending all that money on capes, you could have spend a fraction on a goody bag and I could have done a "Super-Hero" themed party and entertained the children so they would NOT be wild, but organized and engaged in fun, focused activity.  -Dylan
A Party Work-Out!
Worst: Having the party at a big local gym (5 year olds). I think the kids were having a good time but the parents were miserable. It was loud and it seemed as if they kids might get hurt with all the chaos!
Best: The party I had at my own music school. I hired a helper and an entertainer – musical, of course. The party was great. The kids were entertained, parents happy, balloons everywhere…and I could relax because everything was handled!
Melody Stevens, The Time Millionaire "Become True CEO of your business and your life."
Melody: Brava!!  -Dylan
Leave it to the Pros!
Best: I personally love it when parent's let go and allow the planner to plan. I just had a wonderful experience when the mom said, "I have two kids and one is a new born, and I'd rather not stress over a birthday party. I know I am in good hands so long as the children are save, having fun and out of my hair!"
Worst: A mom was trying to impress her friends and asked us to change everything from plates to the cake the day before! Needless to say, we were not able to do so and the families had a great time anyway!
Renee Pena, Creative Sitters Founder/President
Renee: As a fellow party planner and entertainer, I understand you sentiments. It is so nice to be trusted as the professionals. My goal is that moms will know they in good hands with my company too. I want them to book us and say, "Now that the children are taken care of, I can easily do the rest!" -Dylan
To Plan or Not to Plan!
Worst: For our little boy's first birthday I had the party at our house. I planned a meal and cake- no activities since he was only one. I spent the entire party chasing after the kids preventing damage and spent a couple hours after cleaning up. I vowed not to repeat the next year.
Best: For year two I rented a room at the local children's museum. I had the room for an hour, my own party attendant that helped clean up and admission for all my guests for a reasonable cost. Everyone loved the museum. The exhibits are awesome and there was tons to do. I made a birthday cake and cupcakes the night before. I made party favors the night before that which included home made sidewalk chalk. In the end everyone, including myself, had a much better time at this party and my cost was probably about the same. It was definitely worth it!
Gina Baker, Mom of a 2 year old
Gina: It is wonderful how you learned that you can ask for help when you want to add more to your child's party. You learned that it is just as important that YOU have a good time as well as the kids! -Dylan
Are You Coming to My Party?
Worst: My granddaughter's 9th birthday was scheduled. 30 kids invited, rented bounce house, face painter, and with food and cake, I spent about $450. Mom sent out dime store invites with nothing but the place, date & time. and only 2 children showed up! She was crushed and the party was over in about 30 minutes. The next week in school, her friends were upset that they didn't know about all the "fun stuff" she was going to do "or else they would have come." Mom should have talked up the party, made arrangements for fun activities for the parents and probably invited siblings also. There's always next year!
Bobbie Robertson, Preschool Owner and Grandmother
Bobbie: Whoa. That is a sad story. A party is about being together to celebrate someone's special day, not about whether or not the party is going to be any good! -Dylan
Party Renaissance!
Best: The most fun parties we have done for my kids as parents have been a Renaissance Ladies party — girls made their own Renaissance shoes from an easy pattern, wore hair garlands, dressed up in long dresses (from thrift stores, etc. they were not period but "fancy") and costume jewelry. We had the ribbons they swirl and dance with and some Renaissance music downloaded from iTunes. Played catch the ball in the cup, danced, took pictures, and colored a family crest. We made "dainty" snacks and had ginger ale/white grape juice punch. Girls were ages 8-10 and had a great time. We didn't have boys that year but shields, padded weapons would have been no trouble to add. We also do themed parties at our martial arts school.
Shannon Duval Meade, Lake Country Martial Arts
Shannon: I am very impressed at how much you enhanced that party theme on your own! So much rich detail! I hope your children appreciate how lucky they are to have you for a mom! -Dylan
4 Responses to Best and Worst Parties from Parents Like You