Kids Birthday Party Games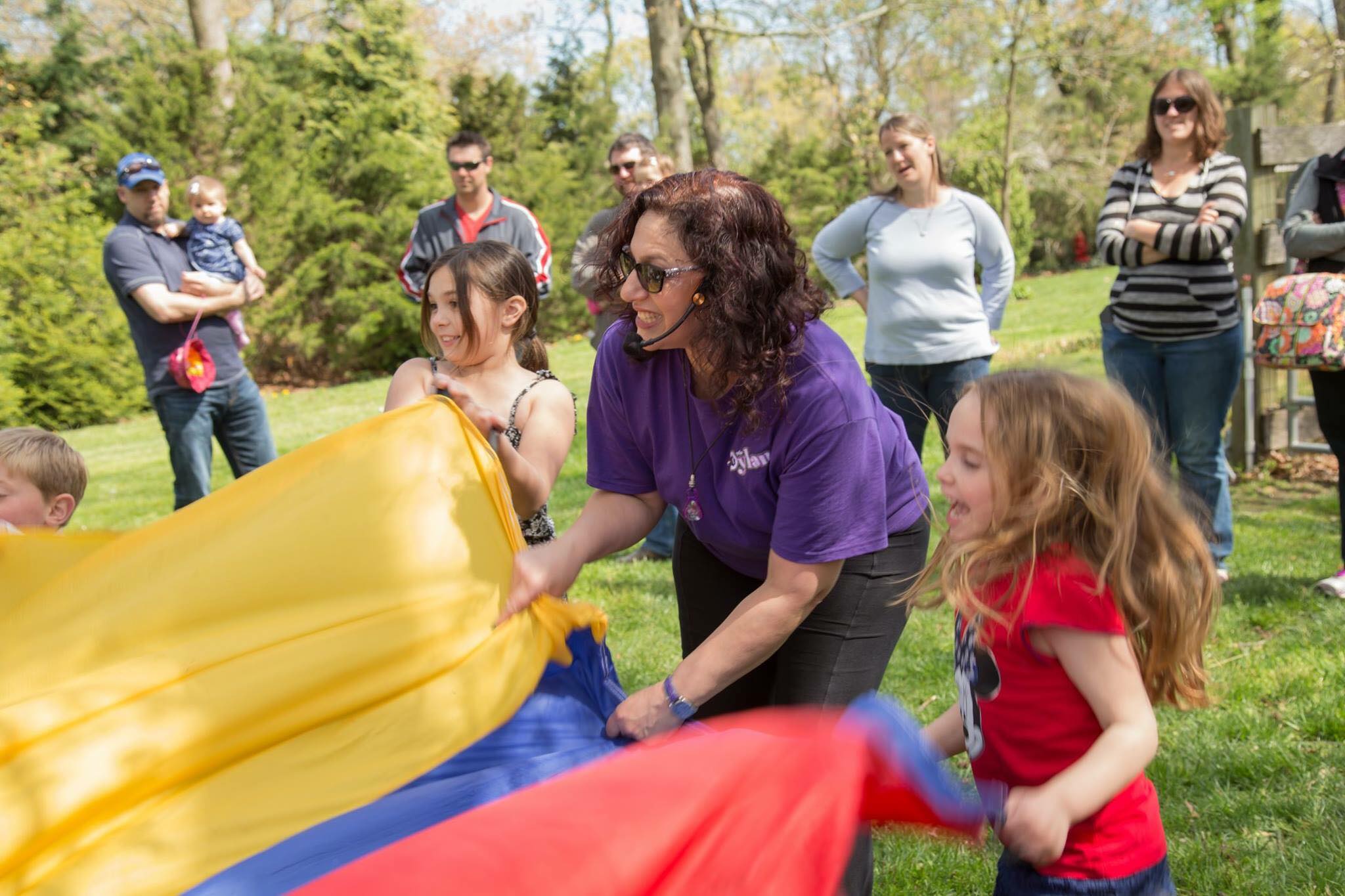 Here are some FUN, easy, and smart games for you to play at a Kids Birthday Party! You can DIY or have musical party entertainers like Miss Dylan or Mr. Jon come in to facilitate, but either way, you can't lose with these win-win games!
Babies and Toddlers!!
• Object Permanence "Hide & Seek": Take a toy and show it to the children. Then, hide it under a blanket. See if they will look for it! Leave a part of the toy peeking out at first, until they get the idea and go looking for it.
• Baby Soccer: Have the children in a circle and get a big beach ball. Swing babies so their feet hit the ball back and forth in the circle. Toddlers are just learning how to kick and the beach ball won't hurt if it hits them instead. Try using more than one ball for lots of laughs.
• Get large boxes and make a town with crayons or make a train to ride in.
• Scarf Dancing: Get out all your scarves and shake them to music. You can also hide your faces under them, toss and catch them, or hold them open and blow into them to watch them fly away!
• Play in the Kitchen Band: Get out the pots, pans and Tupperware! Hit them with wooden spoons or shake measuring spoons. You can also fill Tupperware, yogurt containers, or coffee cans with rice, pasta, pennies, beans, anything to shake and make all different fun sounds! Then turn on your favorite music and play along.
• Get a broomstick for Limbo. I always say, if they can walk, they can limbo. It is fun to see how they learn to go under and duck their heads instead of just grabbing the stick. Next, have then walk or jump over.
Preschoolers!!
• Tape long mural paper onto the wall and let the kids draw on the WALL!
• Limbo, Freeze Dance and the Hokey Pokey – nothing like a good old standard!
• Don't have a parachute for shaking and going under? Use a giant bed sheet! Slide the kids around for rides, shake it with beach balls on top, go under a tent, wave it up and down over their head. This is very exciting kids party game!
• Get a karaoke machine and do a great big sing along with some children's songs. Or get toy microphones and just pretend to be super stars with some great pop music.
• Gather up all your puppets and do a show!
• Have a dress up party. Have your guests come as their favorite princess or character and do a fashion show. You can be the announcer. You can also take photos just like the paparazzi, print them out and give them as party favors.
Thank you for PLAYING! And PLEASE SHARE this post with all your friends with young children so they can PLAY too! "I hope I made Kids Birthday Party Games seem EASY!" Miss Dylan