Making My Own Kind of Music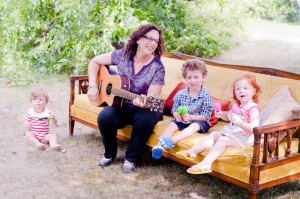 Music deeply affects me.  It brings back memories, evokes emotion, inspires dreams, and makes me sing along.  As a child, all I ever wanted to do was sing.  Music has framed my whole life is more ways than just my career.
I have starred in shows, sang in concerts, and done thousands of kids parties in nj, and somehow I feel like it was all to prepare me for this experience.  It brought me to the point in my life where I could believe in myself enough to invest time and money to create the kind of music that lives in my heart, in order to share it with the world.  The experience of making my new CD "Roller Coaster Ride" has been beyond my wildest dreams.
"Sing Along with Miss Dylan," my first album, was released in 2008.  It was a challenge just to see if I could actually pull it off!  I had a tiny budget and convinced myself that I could record with just my voice and the guitar.  I would use only songs in the public domain so I would not have to pay any royalties.  Plus, I only had one truly original tune.  The response to the CD has been warm and wonderful over the years.  Children and parents alike seem to really enjoy it, and it makes a wonderful party favor for my party company.
However, it became clear to me in 2012 that it was time to move to the next level.  I wanted to make a bigger album, with more original music.  I decided to record my new CD in a professional recording studio with talented studio musicians.  All I knew was this project wasn't going to be cheap.  I started to visualize how it would all come together.  After almost a year of singing, mixing music, working with other musicians, and countless hours of production, the release date of December 1st looks like it is actually going to happen!!
"Mr. Jon" Martinez, who is on my team of employees for Parties by Dylan & Company, told me one day that he wrote a song!  I felt this strange surge of energy and excitement inside of me.  Jon and I began to collaborate on some music ideas and together came up with 5 different original songs for the album!!  That was my first bit of luck.
The second came when the daughter of a friend of mine said she new "a guy" who had a recording  studio.  Frank Slater of Circle K Productions is a unique person who impressed me with his honesty, music experience, positive attitude, and patience.  He is an Army Veteran who served in Egypt and he is just about to earn his degree in music education.  When he told me he actually taught preschool, I knew this guy would "get it."   Thankfully, he only charges by the song and not the hour!  The amount of effort he is putting into making this record (as he calls it) great is unbelievable!  The friends in his awesome rock band, "Panic Switch," all played on my album.  He had other talented friends to help too, including the brass section from his school jazz band!  This album would not be what it is today without his input on so many levels.  I don't want to tell him this, but if I could have paid more, well, he deserved it.
The third aspect of the project that I feel so touched by is the fact that I was able to bring kids into the studios to sing along with some of these songs.  Ranging in age from 5 up to 12, I got to sing with some of my younger cousins, a student from one of my preschools, the daughter of a very close friend, and some of my daughters friends.  Of course, the biggest treat was that my 12 year old daughter got to sing with me too. She has a solo line in "A Dog's Life" and is so proud of her contribution to this project.  The fact that she loves to sing, has a lovely voice, plays piano, and wants to teach music someday, gives me a feeling that is hard to describe.  She is so much like me it is almost scary!  Scary and wonderful.
The songs I chose to do on the album practically chose me.  Over the past years, it was like I knew I would record these songs one day.  "Free to Be You and Me" (Marlo Thomas and Friends) was by far the most memorable song from my childhood.  I still cry when I hear some of the songs from the album.  I remember "Puff the Magic Dragon" from Peter, Paul, and Mary.  My dad used to play his guitar and sing it to me, along with all their classics.   My parents also introduced me to timeless classics like the Mammas and Pappas.  I still enjoy their harmonies and lovely tunes.  I felt that Mamma Cass' (aka Cass Elliott) song "Make Your Own Kind Of Music" was a perfect song for children!  The Broadway Medley was really just for me, though I am so happy to share some Broadway songs that should be classic children's songs, IMHO.  Just singing the song with the pianist while practicing, let alone recording, was a spiritually moving experience.  I just felt like "Ah, so this is what I am supposed to be doing!"  So add some old time classics that go over really well at my parties (with a little twist here and there) and then pump up the play list with some originals, and I had myself a CD!  I dreamed this!
Just watch a baby listen to music (any music).  They will rock and move, responding almost innately to rhythm and tone.  There is no way to say that this isn't anything short of miraculous.  To be allowed to use my gifts to make my own kind of music for children is my miracle.  I hope it brings back memories, evokes emotion, inspires dreams, and makes you sing along.
What inspires you? Please comment below.