Featuring my original song, "The Friendship Song." "Sing Along with Miss Dylan" also has twists on a variety of classic children's favorites and makes a fantastic party favor! Listen to previews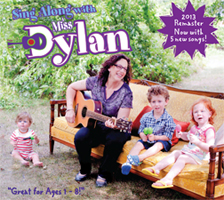 of the songs below, then
And Announcing FIVE NEW SONGS on this new 2013 Remaster!
 New Additional Songs Include:  If You're Happy and You Know It, Little Red Wagon, How Much is that Doggie in the Window, A Dog's Life (written by Jeannie B!) and an acoustic version on Friend's Forever.  (Songs not in list below, but excerpts can be heard by clicking on the order link above.)
Miss Dylan's CD makes a GREAT Party Favor!!

Hello Everybody

The Friendship Song

Old MacDonald Had a Band

Baby Bumblebee

On Top Of Spaghetti

Rabbit Foo Foo

Wheels on the Bus

Wheels on the Bus

ABC – Twinkle Twinkle

Five Little Ducks

Time to Sing Goodbye
"…they prefer to listen to your CD than to watch TV!"

Hi Dylan. You did my son's first birthday party back in February at the Senior Center in Freehold. I wanted you to know how much everyone raved about your performance and how much they adored the CD favors. My three absolutely love your CD and listen to it on a daily basis in the car. In fact, they prefer to listen to your CD than to watch TV! They especially like the Friendship song and Old MacDonald Had a Band. A friend of mine will be contacting you soon. She was at the party and asked me for your info. That's when I actually realized that I never wrote you to let you know how much you added to Sean's party. Well, I'm sure I will be contacting you again as I am pregnant once again and will have one more first birthday to celebrate! Thanks again. – Stephanie H
"We enjoy singing along with you at home or in the car, too."

Miss Dylan: Little Princess Olivia Ann and her family wish to thank you for making her first birthday party so special. All our relatives and friends really enjoyed the musical activities you did them. Thank you very much for your CD. We enjoy singing along with you at home or in the car, too. We hope to see you again soon! – The Petinelli Family