Six Spooky Suggestions for Halloween Safety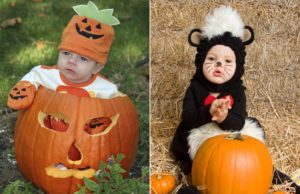 Planning a Halloween party for your kids does not need to be a scary endeavor. Nowadays, parents often choose to host a costume party for their children as an option instead of going trick-or-treating.  Here are six tips to ensure that your Halloween bash is spook-tacular:
Invitations
Send out your invitations at least two weeks ahead of time, but not more than four weeks. You want to ensure that your guests have time to plan ahead, but you don't want  your invitation to be buried under a pile of mail and forgotten. Be sure to add your phone number to the invite so that your guests can RSVP. It helps to maintain a list of who has responded back for planning food and treat bags. Count on  having extras of each in case siblings or additional friends tag along.
Plan for Bad Weather
October weather can be unpredictable, so consider planning your party indoors if you have the space.  If you don't have a large enough room indoors, a garage, covered porch, or gazebo is an option to provide shelter from potential rain. Let the parents of your guests know in advance if their children will need to dress appropriately for the weather. One way to ensure that your party will not be affected is to rent a facility ahead of time. Parties by Dylan offers two possible locations for your child's get-together.
Keep Distractions to a Minimum
If you do host your party at home, be sure to plan for anything that might interrupt your party and cause distractions. If you have very young children, it is a good idea to have a family member there to take them into another room if they need to be fed or changed for you. If you have pets, consider pet-boarding for the day. This will prevent your pet from getting stressed out from the extra company, and keep your guests focused on your party activities.
Be Considerate of Food Allergies
Even if your child doesn't have any food allergies,  is important to offer food and treat options that are allergen-free. Some children have allergies that are so severe, that they can have a reaction simply from being in close proximity to an allergen. Bowls of finger foods, like chips or pretzels, can also cause cross-contamination if kids are reaching into those as well as eating candy, so be mindful not just of what the kids with allergies are served, but also what they may come in contact with indirectly.
Plan Age-Appropriate Activities
Unless you are only inviting kids from your child's class, it is always a good idea to take into consideration appropriate activities for multiple age levels. In order to keep older kids from having an advantage in games, you can divide the competitions into groups based on age-level and have several rounds. Another option is to plan games where everyone participates, but there is no obvious "winner." Planning simple crafts will give everyone a chance to take home a prize.
Keep the Grown-Ups Occupied
For parents that are more comfortable staying for the party rather than dropping their child off, look for ways to keep them entertained. Adult-oriented food and drink options can be set up in the kitchen.  Drinks could mean cocktails, or could simply be a coffee bar with sweeteners and creamer set out. You can set up a deck of cards or word games for them to play with one-another.
Halloween can be one of the most fun times of the year to celebrate with your children and their friends. Whether it is spooky or silly, planning your party ahead can make it enjoyable for everyone.
Article by Charlotte Meirer who loves helping people ensure the safety of their families and their homes and created homesafetyhub.org.